PEP Events and Announcements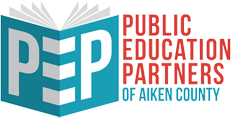 PEP Classroom Innovation Grants — Applications Due: September 15, 2023 and February 15, 2024
The overarching goal of the PEP Classroom Innovation Grant is to support teachers in developing creative and innovative methodologies and strategies that engage and enhance student learning in measurable and meaningful ways. PEP's goal is hold at least two rounds of Classroom Grants per school year.
Learn More (including Application)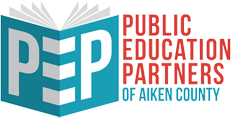 PEP HAS DONATED OVER $23,000 IN INNOVATION GRANTS
July 2023
Public Education Partners (PEP), with the kind financial assistance of its community partners, and its Board Members, are proud to announce grants exceeding $23,000 for the 2021-2023 school year. Congratulations to the winners!
Learn More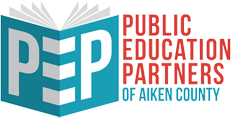 PEP Chair's Annual Letter for 2022.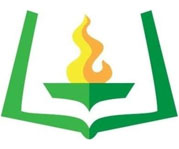 Aiken County Schools New Teacher Induction
August 2022
Nicholas "Chip" Retson, PEP's Chair for Endowments and Scholarships, welcomed all new Aiken County teachers and emphasized PEP's support of local education through several strategic initiatives.
Learn More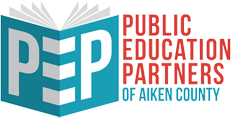 PEP Hosts Nurturing School Readiness Event
August 2021
PEP members Diana Matthews Floyd and Linda Strojan organized professional development for Aiken County early learning educators with speaker Tina Shaw from the SC Department of Education and Paige Leopard the Director of Early Learning for Aiken County Public Schools.
Learn More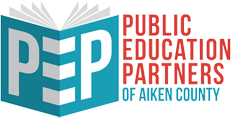 PEP Donates $6,590 in Classroom Innovation Grants
February 2021
Public Education Partners (PEP), with the kind financial assistance of its community partners, and its Board Members, is proud to announce our first teacher grants for this school year. 13 grants totalling $6,590 were awarded; $3090 in grants was awarded for STEAM projects. Congratulations to the winners!
Learn More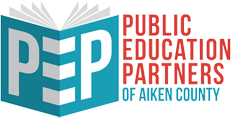 PEP Classroom Innovation Grant
November 2020
The overarching goal of the PEP Classroom Innovation Grant is to support teachers in developing creative and innovative methodologies and strategies that engage and enhance student learning in measurable and meaningful ways. Grant applications are currently being accepted; the deadline is December 18, 2020.
Learn More

Aiken Chamber of Commerce's First Friday Breakfast
November 6, 2020
PEP Board President, John Lamprecht, and Board Member Chip Retson attended Aiken Chamber of Commerce's First Friday breakfast. The featured speaker was Aiken County School District Superintendent King Laurence, who gave an update on the progress being made with school construction and upgrades.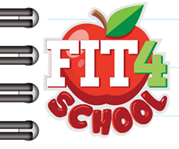 Fit 4 School
August 2020
10th annual Fit 4 School event, held at the Aiken Family Y, provided school supplies, vision and hearing screens, and haircuts to less fortunate K-12 students in the Aiken area.
Learn More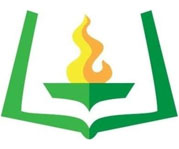 Aiken County Schools New Teacher Induction
July 2020
Nicholas "Chip" Retson, PEP's Chair for Endowments and Scholarships, welcomed all new Aiken County teachers and emphasized PEP's support of local education through several strategic initiatives.
Learn More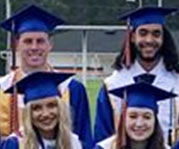 MVHS-ATC Early College Program Graduation
May 2020
Through a partnership between ATC and MVHS, these students recently graduated with a high school diploma from Midland Valley High School as well as an associate degree from Aiken Technical College.
Learn More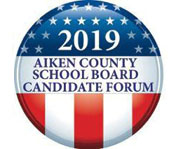 Aiken County School Board Candidate Forum
November 2019
PEP board members volunteered at the recent Aiken County School Board Candidate Forum hosted by the Aiken Standard. PEP is committed to advocating for public education and educating the Aiken community.
Learn More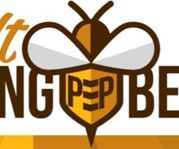 Adult Spelling Bee
October 2019
The 2nd annual PEP Adult Spelling Bee, a fundraiser for Public Education Partners, was held on October 17, 2019 at Woodside Plantation Country Club. 8 spelling teams competed for the winning title.
Learn More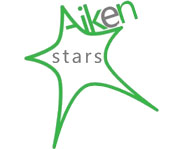 Stars of Public Education
June 2019
The hardworking educators, employees, and staff of Aiken County Public Schools were recognized with a night to remember at the Stars in Public Education Awards Banquet held in the USC Aiken Convocation Center. The 2019 Teachers of the Year, Principals of the Year, and Staff Persons of the Year from each school were celebrated.
Learn More