PEP Donates $6,590.00 in Innovation Grants
Public Education Partners (PEP), with the kind financial assistance of its community partners, and its Board Members, is proud to announce our first teacher grants for this school year.
After evaluating all of the grant applications submitted, PEP has selected thirteen awards for this round of grants. These grants total $6,590.00, of which $3090.00 are related to STEAM; these grants are to be used by the awardee teachers to carry out the projects for which they requested a grant.
Congratulations
Congratulations to our grant winners:
Victoria Christensen, Kennedy Middle School
Kimberley Fontanez, New Ellenton Middle School
Amber Glessner, New Ellenton Middle School
Agnes Hamilton, New Ellenton Middle School
John Hostetler, Aiken High School
Lori Johnson and Joey Middlebrooks, Ridge
Spring-Monetta High School
Art Lader- Aiken High School
Carrie Lucas, Warrenville Elementary School
Leslie Lybrand, Ridge Spring–Monetta
Elementary School
Sarah Moose Maney, Mossy Creek Elementary School
Jennifer Minolfo, Aiken Elementary School
Vicky Thompson, Oakwood–Windsor Elementary School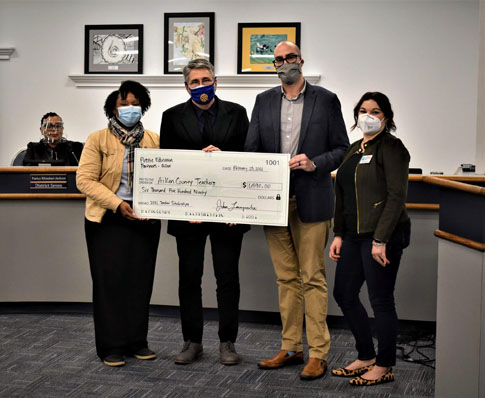 Partners
PEP is extremely thrilled to join our local communities and partners in support of these dedicated Aiken County educators. This year's Teacher Grant Partners include:
Savannah River Nuclear Solutions
American Assn of University Women
Savannah River Remediation
City of North Augusta
Bridgestone Americas, Aiken County Off Road Tire Plant
Women of Woodside